April 20, 2013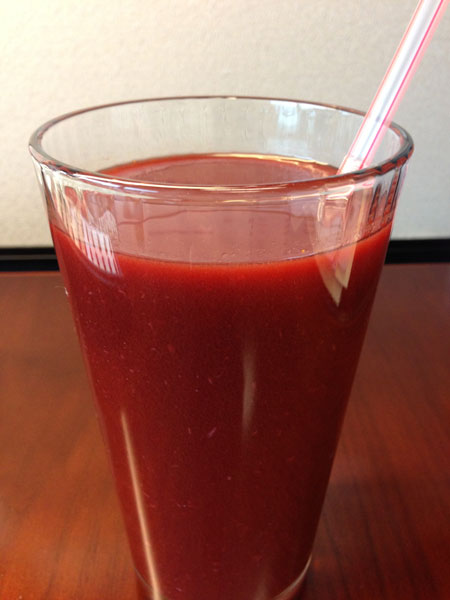 I've always wanted to find a good homemade spicy V8 juice recipe, since the store-bought juice is just too darn salty. I absolutely love it, but the sodium level gives me salt bags of epic proportions. Not a good look, and definitely not good for you.
I'm a total juice fiend lately – ever since I started having green juice every day – so I decided to try my hand at a homemade spicy V8 juice recipe. I have to tell you that I'm thrilled with the results!
Store-bought V8 juice is made of reconstituted juices of carrot, tomato, watercress, lettuce, parsley, beet, celery and spinach. I didn't have any watercress, my spicy healing green juice used all my lettuce up, and I don't like the flavor of parsley, so I used spinach for all the greens this first go-round.
I think using a variety of greens would give the juice even more depth of flavor, so that will be the first change I make in the next batch o' BigSis V8. Technically, what I have here is V7. 🙂  Next time, I'm going to use romaine and a few kale leaves for part of the spinach, so I guess I'll have V9 juice then.
I love the balance of tomato to carrot to beet, and the celery and bell pepper are adding in the right touches of flavor too. The spinach and lemon bring it all together.
This first version leans a little spicy, but it's not quite as zippy as my green juice. Feel free to leave out the garlic, horseradish and cayenne to make a more pure V8.
One last note about this recipe is that it's raw. I've seen some homemade V8 recipes online that were cooked, which baffles me a little. Cooking the veggies defeats the purpose of juicing for me, so we're going raw here. I betcha you could lightly run some tomatoes through the blender and mix them into the fresh juice if you really want a thicker texture to your juice.
Homemade Spicy V8 Juice Recipe
6 carrots
1 very small beet
8 Roma tomatoes (you want a firm tomato for juicing)
1 red bell pepper
3 huge handfuls of spinach
3 stalks celery
1 clove garlic
4 small or 2 large lemons
1-2 tablespoons prepared horseradish (not creamed)
1/4 to 1/2 tsp salt
1/4 to 1/2 tsp cayenne pepper
Wash all the produce thoroughly. Remove seeds and stem from pepper, and cut into large chunks. Cut ends from carrots and beet, and cut into chunks. Peel the lemons and cut into quarters. Half the tomatoes, and cut celery into big pieces. Juice everything together, and season to taste.
This recipe makes round 32 ounces. Drink within 2 days for maximum nutrition.
I don't drink vodka, but I also think this juice would make a heck of a Bloody Mary! 🙂

~BigSis