October 4, 2008
The battle against cellulite is never-ending, isn't it?  Since we didn't get SisMama's cellulite-free genes, we'll always be looking for the new best cure for the dimply little problem.
I really did like the FatGirlSlim.  I used it for quite a while.  It smelled nice, the cream soaked into the skin well without leaving any stickiness, and it really did seem to give the appearance of smoother skin, thanks to the caffeine in it.

BTW, why does topical caffeine reduce cellulite and eye puffiness, but eating or drinking caffeine-laced products is thought to make it worse?  I don't get it.  Anyway, I bought it several times at $25 for a 6 ounce jar, then it went to $27 and I kept buying it.  What's 2 more dollars in the search for smooth thighs?  But when it went to $29, I was out.  The jar doesn't last very long, and I had reached my budget threshhold.
I searched around on the reviews on MakeUpAlley, and found recommendations for a couple of products.  Neither was too pricey, so I gave them a whirl.  Loreal's Sublime Slim is another caffeine-containing product.  It's more of a gel consistency, and again soaked in well, and did make my skin feel smooth. 

At a price point of only around $15, it seemed well worth it.  However, I did get to the point where I wanted to eliminate caffeine from my life for health reasons, so my Sublime Slim had to go.   Bummer.
Next, I tried Weleda's Birch Cellulite Oil.  It comes in a 3.4 ounce glass bottle, which wouldn't be my packaging preference since it is an oil and your hands get slippery.  You can usually find it for between $15 and $20. 

I have to admit it's a little hard to get used to at first.  It's an all natural green oil with a very strong herbal aroma, which comes from birch and rosemary.  You don't need much of it, maybe a nickel-sized amount, so the bottle lasts a long time.  It does a good job of moisturizing, and I like that it gives your skin a warm feeling when you massage it in.  I'm not sure how much of a tightening effect I see, the jury is still out on that.  I'm using it now, and alternating it with the Forever Spring kit that LilSis talked about.
I like the Forever Spring Body Smoother kit fine, but I'm not sold on it yet.  The soap smells nice and the loofah does what it's supposed to do – exfoliate, but I have a little bit of a hard time getting much lather from the soap since it's encased in the loofah.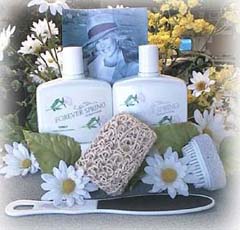 The Firm-It gel reminds me of an aloe vera gel, it feels nice and cool, but I'm not sure how much smoothing I'm seeing, and it seems a tad stickier that the Sublime Slim gel.  The lotion in the kit seems to be a nice standard body lotion.  The kit costs $38.50, but you can buy the loofah soaps separately.
So.  I've eliminated the products that I think are most effective since they containe caffeine.  I'm going to keep using the Weleda Cellulite Oil and the Forever Spring kit since they're my best options right now.  Maybe something new and cool will come along meanwhile.

~BigSis