April 30, 2009
One of my favorite spots for Sunday Brunch used to be Charlie's by the Sea.  It was one of the most beautiful spots right on the sandy beach in Cardiff. We used to go there quite often. We would let HayHay surf right out in front where we could watch him while we leisurely enjoyed our brunch on the patio. And, we always took our out of town guests there. Unfortunately, they closed their doors last year. I haven't found another spot like it since.
One of my favorite things to order from their Brunch menu was their Garden Omelet. I was really craving one this past Sunday, so I decided to make one for myself. Since the guys were golfing,  I actually got to make something for just me, myself, and I!
I must admit that it turned out pretty darn good. It was very similar to the one that they used to serve at Charlie's by the Sea, except I think I used more veggies!
Since I used three eggs, I cut the omelet in half and hid the other half in the fridge for my breakfast the next day. (At my house, if you want to guarantee that your leftovers are still around the next day, you have to hide them.)
Here's what the yummy inside looked like as I dug into it.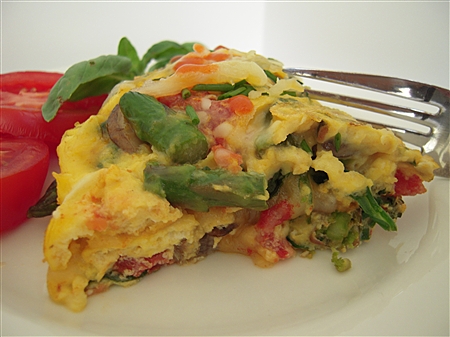 The quantities of  the ingredients in this omelet are approximate. You could add more or less of any of these ingredients or substitute any one of them for your own favorite veggie! (That's why I'm better at cooking than I am at baking. I really do NOT enjoy having to measure every ingredient and I have no clue when you can and can't substitute in baking.)
Garden Omelet
1 tsp. olive oil
1/2 c. asparagus, cut into pieces
1/2 c. baby portobello mushrooms, sliced
1/2 c. fresh spinach, torn into pieces
1/4 c. petite diced tomatoes
3 large eggs, beaten (I put a dash of Frank's Red Hot in the eggs)
1/4 c. shredded cheese (I used Sargentos 4 Cheese Mexican)
salt and pepper, to taste
a few snips of chives
Frank's Red Hot, to taste
I start off my omelet like a frittata because I like my veggies all mixed into the eggs, not just tucked inside the omelet. Begin by sauteing the asparagus tips and the mushrooms in the olive oil for about 5 minutes or until the asparagus softens a little. Then toss in the spinach until it wilts. Next, add the tomatoes and stir just until blended in with other veggies. Now, pour the eggs over all the veggies. Cook until the egg sets well enough to flip the omelet. Once flipped, I sprinkle on the cheese and fold over. Sometimes, I might flip it again, if I want to brown both sides a little.  Slide onto a plate, add a dash of salt, pepper, a few snips of chives and top off with some Frank's Red Hot, to taste.
I hope you enjoy this omelet recipe or your own version of it.  I change mine up almost every time I make one. I think I enjoy making them so much because they are quick, easy, and can be pretty healthy as long as you don't load them up with massive quantities of bacon and cheese. (which I also love, by the way.)
I'm also entering this recipe in the BlOg yOur Omelete event.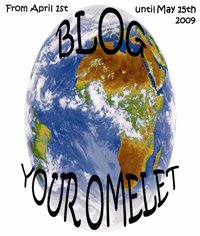 You can read more about this fun blog event here on Spanish Recipes. Nuria from Spanish Recipes will be accepting omelet recipes until May 15th so it's not too late to get your recipe entered! The full roundup will be published on May 18th.

~LilSis