May 18, 2009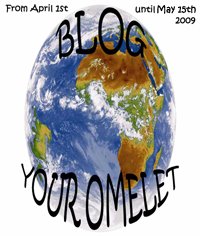 I recently entered my Garden Omelete recipe in this blOg yOur Omelet event.  If you like omelets as much as I do, be sure to check out the final roundup today on Spanish Recipes. With a total of 33 entries, there's an amazing variety of omelets, frittatas, and quiches in this roundup.
I've loved omelets for as long as I can remember. When eating out for breakfast or brunch, I almost always order an omelet.
On my little R&R getaway this weekend, I ordered a very simple bacon and cheddar cheese omelet from the restaurant at the club house. Normally, I like some veggies thrown in there, but since I was in vacation mode, I guess I didn't want to think too much about it and the first thing that came to mind was bacon and cheese! It was perfect.
For Mothers Day last Sunday, BigT, HayHay and I went to the local spot at the Harbor for a full blown all you can eat Sunday brunch. BigT was being good, so he only got a small plate. HayHay, on the other hand, managed to consume three gigantic plates of everything from ham, roast beef, eggs benedict, sausage, bacon, potatoes, pancakes, biscuits, waffles, and chicken. He even ate something on his plate that BigT asked him what it was and he didn't even know. It turns out that it was some sort of fish. (Ahhh! To be 15 again!)
I, of course, ordered an omelet. I ordered a bacon, mushroom, spinach, tomato, and cheese omelet and I was a happy little camper. I'm pretty easy to please. If someone else is doing the cooking and cleaning, it's all good!
All this talk about omelets is making me want one! I wish I could twinkle my nose and have a nice garden omelet appear in front of me right now!


~LilSis